Backflow Preventer Denver
Denver Backflow Prevention
JD's plumbing offers backflow prevention services that include devices to prevent your potable water supply from being polluted by contaminants. Backflow can occur when water pressure fails or is reduced due to a water main bursting, pipes freezing or if there is an unusually high demand on the water system. Our highly trained technicians can make sure that your devices are properly installed and maintained to protect your household fresh drinking supply.
City ordinances regarding backflow prevention serve a very specific, and very important, purpose. They help to protect municipal water systems from contamination. Each residential household and commercial business should be equipped with a backflow prevention system. These are often quite complicated, though, which is why they require periodic inspections and maintenance. Through ensuring the continued functioning of their systems for water backflow prevention Denver, commercial and residential property owners can do their part to help keep everyone's drinking water safe.
There are four significant reasons for backflow in residential houses. Garden hoses can cause back-siphoning if they are left with the nozzle submerged in water or lying on the ground. Sprinklers are similarly susceptible. The back-siphoning from these sources very frequently contains pesticides, fertilizers, and dangerous bacteria or other organic matter. Well water is also prone to contamination through backflow, although generally the problem is localized to the house or houses drawing drinking water directly from the well. Finally, although individual property owners have little control over it, breaks i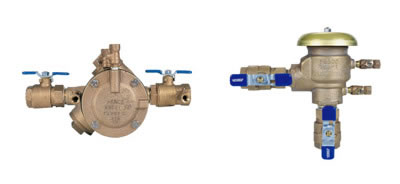 n city water lines can allow polluted water to enter the city's water supply.
One way to minimize risk is to replace any fixtures in or around residential homes that are more than ten years old. Modern hoses, sprinklers, and plumbing fixtures are required by law to have backflow prevention devices built in, while older systems often put households and businesses at risk. It's important to find a certified professional to test any devices for Backflow prevention Denver households use. The same plumber or other certified professional can usually perform any necessary repairs or upgrades.
Unfortunately, not everyone takes advantage of backflow services. As a result, the Centers for Disease Control cite water contaminated by backflow as a major contributing factor in over 4,000 serious illnesses in just one recent year. By contacting a certified professional in back flow prevention Denver, residents and business owners can ensure that their families, customers, and communities do not fall prey to water contamination. This easy step can help prevent the spread of illness, so learn more online or contact a professional in the area today.
Residential
Outside Hose faucets with built in backflow preventer
Hot water recirculation check valves installation
Commercial
Reduce pressure backflow: Testing & Certification
Reduce pressure backflow: New Installation, Replacement and Repair
Irrigation
Vacuum Breakers for Lawn Sprinkler
New Installation Replacement & Repair.