When your air conditioner breaks down during a scorching summer day, you need an HVAC company to provide prompt and efficient AC repair services. Look no further than JD's Plumbing, Heating, and Cooling in Westminster, Colorado.
The Westminster AC repair technicians at JD's Plumbing are just a call away to solve all your AC troubles. We are here for you, give us a call!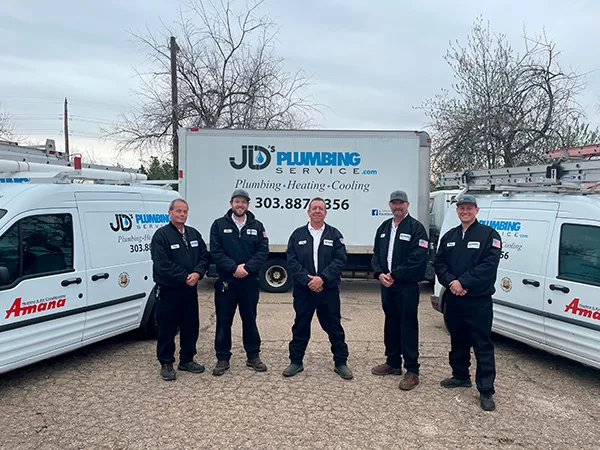 AC Repair Services in Westminster
Our team of NATE-certified technicians specializes in Westminster residential AC repair. Whether your air conditioner is making strange noises, blowing warm air, or not turning on at all, we have the expertise to diagnose and fix the issue quickly.
We understand the importance of having a functional air conditioning system, especially during the hot Colorado summers, and we are dedicated to restoring your comfort as soon as possible.
Emergency AC Repair
At JD's Plumbing, Heating, and Cooling, we offer emergency AC repair services, and AC maintenance, meaning that we are available to address any sudden cooling emergencies quickly. We know a malfunctioning air conditioner can disrupt your daily routine and affect your quality of life, so we prioritize fast response times and efficient solutions.

Why Should I Call JDs?
Our team is equipped with the latest tools and technology to handle any AC repair job, big or small. We take pride in our attention to detail and commitment to providing exceptional customer service.
When you choose JD's Plumbing, Heating, and Cooling for your residential AC repair needs, you can trust that our technicians will thoroughly assess the problem, explain the necessary repairs, and provide an accurate quote before starting any work.
What to Do if Your Westminster AC Needs Repairs?
There are many ways to tell if your air conditioner needs service.
Sometimes you might not even know that your AC unit has a problem. You hear it running and assume that it is working how it should.
Here are some signs of a malfunctioning AC unit:
Weak or insufficient airflow from the vents.
Uneven cooling or hot spots in different areas of your home.
Unusual noises such as grinding, squealing, or banging coming from the unit.
A sudden increase in energy bills without any changes in usage.
Westminster AC Maintenance Check-ups
Even though your AC is working fine, it's recommended to have an HVAC technician service it at least once every year. Using your Air Conditioner year after year without regular maintenance will eventually cause problems and breakdown.
Schedule Service
Don't suffer through the heat any longer. Contact JD's Plumbing, Heating, and Cooling for reliable and professional AC repair services in Westminster, Colorado. We are here to ensure that your home remains cool and comfortable throughout the summer months.