Denver Leaky Water Pipes
Taking Care of Leaky Pipes and Re-Piping in Denver
Often times people don't realize the importance of the quality of your existing water lines If you have been experiencing poor water quality or leaks and corroding of your pipes, it may be time for a complete home re-pipe. JD's plumbing will re-pipe your home and offer a two year warranty on all materials and labor. Our technicians will be happy to inspect your system and offer an estimate for this service.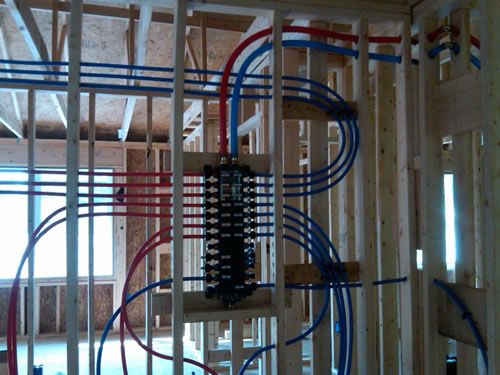 Leaking pipes frequently create costly problems homeowners would rather avoid. To do so, it's important to take care of plumbing problems sooner rather than later. And, to do so, Denver's top plumbing experts frequently recommend a Leaky Pipe Repair Denver or, in more drastic cases, re-piping. Regardless of the solution, the important thing is to resolve any plumbing issues as soon as they're identified.
How Can Homeowners Identify Piping Problems?
Potential issues always exist, so it's important to note the condition of plumbing routinely. If you're unsure of what to look for, it might be a good idea to contact a plumbing expert offering Pipe Repair Denver to evaluate the existing system. In newer homes, there may be no need for any immediate updates or repairs, but older homes often have problems needing attention. Galvanized pipes were used for years, and any home still using them is likely to need Re-Piping Denver. The pipes rust from the inside out, so there may be no external signs of problems, but the building corrosion diminishes the flow of water, often reducing water pressure to a trickle.
For several years, polybutylene piping was used as an inexpensive alternative to copper. That choice has proven to be problematic, with pipe splitting commonly causing significant flooding in homes. Even main supply lines from the meter to the home may have polybutylene piping that should, at this point, be replaced.
Of course, any leaks should be dealt with quickly. Denver Leaky Pipe Repair should be handled by professionals well versed in the type of plumbing used and the proper repair strategies for that piping.
Is Re-Piping Expensive?
The short answer is yes, but that doesn't minimize the importance of taking care of all plumbing problems before they cause significant damage to a home. If you're considering taking care of Leaky Pipes and Re-Piping Denver, it pays to discuss the current system with a plumbing expert and explore all the potential solutions. Newer types of plumbing products are entering the scene, which can often help to keep re-piping costs to a minimum.
The area's top plumbing experts are more than happy to evaluate a home's plumbing system and suggest updates or repairs to minimize the chances of significant problems developing. Taking care of problems before catastrophic damages occur is always recommended. To get started, contact a Denver plumbing expert today.
How do I know if I have a broken water line outside?
Common signs of a broken water line may include an excessively high-water bill, puddles or soft spots in your yard or the sound of running water when no faucets or relevant appliances are running.  The expert technicians at JD's plumbing will be able to help you locate your main water meter if you need help. We at JD's Plumbing have specialized state-of-the-art leak detection equipment which helps us locate the leak and determine the best approach whether to repair or replace.
Using advanced technology equipment, we can often use a trenchless method of replacing your water service which "pulls" the new water service line through the old line from the water meter to your house or business. This trenchless method can take less time, cost less and are far less invasive to landscaped areas, driveways and other areas that you would prefer to leave intact.
We are licensed and certified to replace your main water service or tap into the city main. JD's plumbing can handle all aspects of the job from excavating to concrete and asphalt work and full repair.