Are you looking to switch from electric appliances to gas appliances? You can lower your electric bill and save money when cooking or doing laundry. Our Denver plumbers can install gas lines in Denver to any gas appliance fireplace, barbeque grills, and exterior fire pits.
Don't Ignore a Gas Leak Repair in Denver
Gas leaks are hazardous, so it's important to deal with them promptly. Never ignore a rotten egg odor, this will require your immediate personal attention, as it's a chemical added to natural gas to make leaks easy to detect.
If you suspect a gas leak in your home, it's essential to keep the health and safety of your family first. Leave home immediately if a gas leak is suspected and contact the gas company to shut off the gas supply. Once everyone is safe, it's time to think about a Gas Leak Repair in Denver.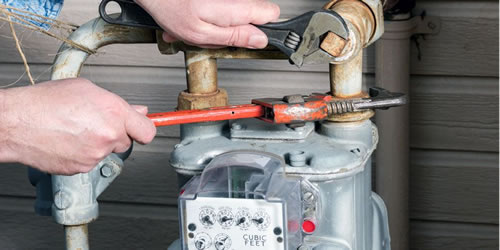 Get Advice From the Experts
Any gas leak needs to be dealt with by professionals to minimize the chances of a fire or explosion. That's why your first call after contacting the gas company should be to an expert for Denver Gas Line Repair and gas line installation.
Local plumbing experts are well-versed in the latest techniques for locating leaks, determining their causes, and making repairs. While gas lines are relatively trouble-free, they can be damaged. That means getting quick and quality repairs are essential for keeping everyone safe.
Listen to the Professionals
Gas company personnel will shut off the gas, but repairs are generally up to a homeowner to deal with. Denver Gas Leak Repair and plumbing professionals understand how dangerous gas leaks are and will normally respond immediately to make sure customers are safe and the repairs are done as soon as possible. In the meantime, listen to their advice on how to deal with the situation until they arrive. As a rule, it's never a good idea to re-enter a home where a gas leak is present.
The Gas Leak Repair Denver experts have the equipment and expertise to locate a leak quickly and make any required repairs, and it's simply not worth the risk for homeowners or their families to re-enter a home where a leak exists.
JD's Plumbing Heating & Air Condition has years of experience dealing with gas line issues. and provide prompt home services!
Prevent Problems Whenever Possible
Gas leaks may occur without warning, but there are times when property owners may notice potential problems. Digging without locating supply lines first often creates dangerous leaks when underground lines are struck. Even moving gas-fired appliances can damage supply lines, weakening them to the point where a leak is likely to occur.
If you're concerned about any existing damage that might result in a leak, contact a plumbing expert offering professional Gas Line Repair Denver for help. It's also a good idea to schedule routine inspections periodically, so the plumbing professionals have an opportunity to spot potential issues.
Contact us today! JD's Plumbing offers fast and affordable Denver gas line repair and installation in Denver and the surrounding area!