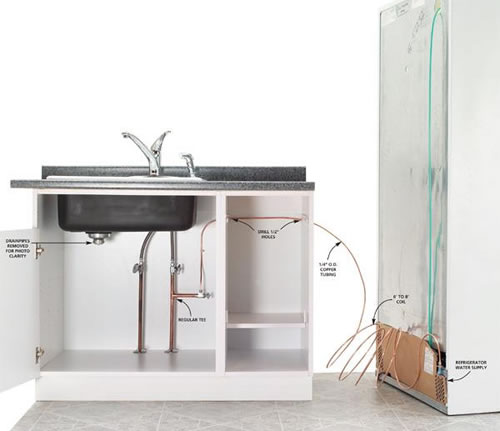 JD's Plumbing Heating & Air Conditioning can install and replace ice maker lines in Denver to any make and model of refrigerators that are set up to accept water lines.
Refrigerator and Ice Maker Lines
Did you know that water shut-off valves should be easy to use and have a durable style to allow for repeated use and also to allow for water filter replacement?
We can professionally install a water line to your refrigerator, and ice maker. We will install a full-sized 1/4 turn shut-off valve to allow maximum flow to the appliance and we also use only ¼" soft copper tubing (No Plastic!). This way you can be worry-free regarding leaks, ensuring that your appliance repair line will be trouble-free.
Our Denver technicians are experienced and are highly recommended by our customers for all your plumbing, ice maker repairs, installing, replacing, and refrigerator line repair services needed. We make sure that your appliance supply lines are working properly.
Get in touch with JD's Plumbing to schedule maintenance, repairs, or replacement for your ice maker water inlet or inlet valve today. We are here to provide you with honest and professional advice to take care of your appliance repairs!
We provide service for the surrounding Denver metro area!