Regular AC maintenance in Denver is essential for keeping your HVAC system running optimally. To ensure the air conditioning system in your home or business remains in excellent condition, give us a call. Without proper maintenance, your air conditioner can break down, potentially causing damage to your property. Contact us at (303) 887-3356 to schedule regular AC maintenance. If you require additional services apart from air conditioning maintenance, check out our other cooling services here.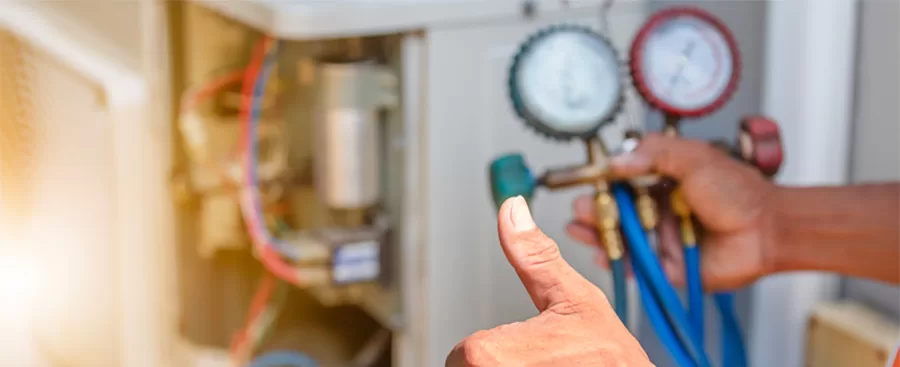 Occasionally, a Quick Filter Replacement Can Suffice
If your AC is not working correctly, a Denver Air Conditioning filter replacement might be all you need. Filters are crucial in removing debris and dirt from the air, preventing the cooling coil from clogging and causing further issues. Replacing your filter every 6-10 months is recommended to ensure optimal performance. Contact us today to schedule your regular filter replacement and maximize the efficiency of your unit.
Schedule an appointment for an AC coil cleaning.
The coil in your air conditioner is crucial. Liquid refrigerant runs through it while air is passed over it. As the air passes over the coil, it cools down and turns the liquid into vapor. The vapor is then condensed back into a liquid and passes through the coil again to cool more air. If dust and debris clog the coil, your air conditioner won't work properly. If you need a Denver AC coil cleaning or repair, contact one of our technicians today.
We offer high-quality duct maintenance and replacement services.
Your ductwork is like a superhighway for cool air in your building. Gaps or tears in the insulation can make it harder for the cool air to reach your home or business. Our techs can inspect and maintain your ductwork in Denver. We can replace broken ducts and ensure proper air balance. Contact us for reliable duct maintenance and inspection services.
Contact us for dependable AC maintenance services in Denver.
Keeping your air conditioning system efficient is as simple as scheduling regular Denver AC maintenance with JDs. We have been providing the area with top-notch AC maintenance and replacement for decades, and come highly recommended by many in the Denver Metro area.
Schedule AC Maintenance Today
Scheduling regular Denver AC maintenance is necessary to keep your air conditioning system running smoothly. Our company has been providing quality AC maintenance and replacement for decades and has received high recommendations from the community. Please contact us to schedule your regular AC maintenance in Denver. Click below if you would like to learn about the energy savings that regular maintenance can provide.
Having our JDs Technicians perform regular AC maintenance services will keep your unit running for tip-top for years to come!