With various types of Denver heat pumps available, you may be wondering which is the most efficient option. Your Denver home can greatly benefit by using heat pumps. This system provides less expensive alternatives to other solutions.
During the summer months, Denver heat pumps work like an air conditioner to remove heat from the air and transfer it outside. In the winter, heat pumps extract heat from outdoor air and take it inside your house.

At JD's Plumbing Service, we offer a wide range of services for your heating and cooling needs. These include Furnace Safety Inspections, Furnace Cleaning Services, and maintenance. Our experienced team can get the job done as efficiently and quickly as possible.
Get in touch with our team and let us know how we can help.
Heat Pump Installation
JD's Plumbing Service can install a new Denver heat pump in your home. We are knowledgeable in all the best brands, models, and makes of these heating systems. If you're unsure of what to get, we can provide recommendations for you.
Heat Pump Repair and Maintenance
If your system is not working as it should, we offer reliable heat pump repair services to fix it. From the replacement of components to duct patching, our specialists will quickly fix any issues to get it back in working order. JD's also offers furnace installation services, and furnace repair services for your convenience.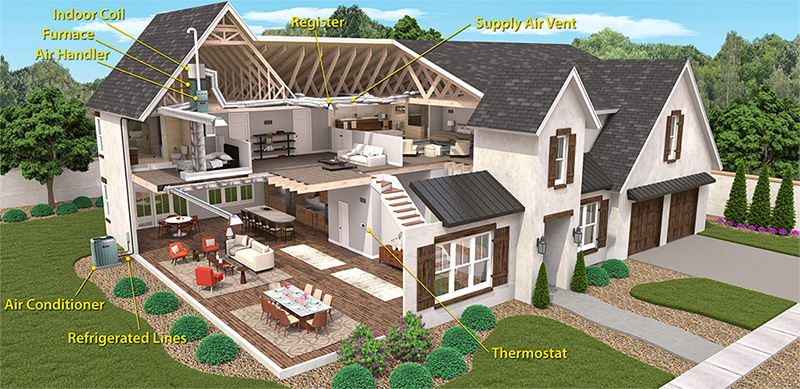 Maintenance is also a crucial aspect of Denver heat pumps since they are used all year. We will perform rigorous routine checkups of your system, including all disposable and permanent filters. These routine checkups will prevent smaller issues from spiraling out of control, saving money long-term.
Having your Denver heat pump regularly maintained also allows it to produce comfortable temperatures inside your home. Without regular maintenance, it may make your home too cold in the winter and too hot in the summer, defeating the purpose of a heat pump.
To learn more about heating systems check out this FAQ article: Conventional HVAC System FAQs.
Contact JD's Plumbing Service Today
Whether you're looking to install a new system or have your existing heat pump repaired, do not hesitate to call our team today.
Geothermal Heat Pumps in Denver
At JD's Plumbing Service, we have the skills and knowledge to service geothermal heat pumps. This system provides the same benefits as a traditional heat pump but uses a more reliable energy source.
Standard models work by using the heat in the air. Meanwhile, a geothermal heat pump takes advantage of the heat stored within the earth or in groundwater.
Geothermal heat pumps transfer heat back into the ground during hot summer days when the temperature below is colder than above. In the cold winter months, the system passes on heat from the earth into your home.