Homeowners have to do a lot of maintenance tasks to keep their properties in good order. Walls must be painted every so often, gutters and roofs must be kept leak-free, and electrical equipment must be routinely inspected. Another important area is the plumbing. This includes bathroom fixtures, drains, showers, sump pumps, water heaters anything else requiring the knowledge of a Denver plumbing company.
Denver is home to approximately 620,000 residents living in 295,000 households. And when something breaks down, there are always two options:
Either You go through the YouTube DIY Plumbing video tutorials OR
You Hire a reliable Denver Plumbing Company
The first option seems to be the most economical but do you have the time it takes to learn everything? Plus, those YouTube videos are made by professionals who make everything look easy, with the right tools and equipment for the job. Is the problem you're trying to solve even the same as the one shown in the plumbing video?
What Does a Plumbing Company Do?
A plumbing and HVAC company does all of the work related to heating, cooling, pipe fixtures, clogged drain, drain cleaning, drain clearing, and bathrooms for your home. There is no shortage of Denver plumbing companies; if you do a quick search on Google, you'll find several paid listings at the top. But being a professional and claiming to be one by paying for Google ads are two different things.
We understand you're confused. Which plumbing Denver company should you call? Are they professionals? Is the Denver plumbing company insured? Do they have the right equipment to fix leakages? We've created this ultimate plumbing company checklist to help you in selecting the most reliable company.
Check For Insurance
Is your plumbing company insured? What happens if they break your faucet or window during the repairing process? Instead of footing the bill for unnecessary damages, always confirm whether the Denver plumbing company you're working with is insured or not. Insurance does come at some premium rates, but it guarantees peace of mind.
Ask For References From Friends, Family Members and Company's Past Clients
Whenever you call in a company for a plumbing inspection in Denver, CO, always ask for references of previous clients. You can ask the following questions from the past clients:
Did the company complete work on time and agreed to payment terms?
Was the job completed satisfactorily?
Did this plumber attempt to tip you off?
Would you call this plumber again for any issues?
Would you recommend this plumber to anyone?
Check For Online Reviews
Is your company experienced in doing various types of tasks? A great way to figure this out would be Google reviews! Check JDs Plumbing reviews on Google, and you'll notice a 4.6 rating based out of 37 reviews: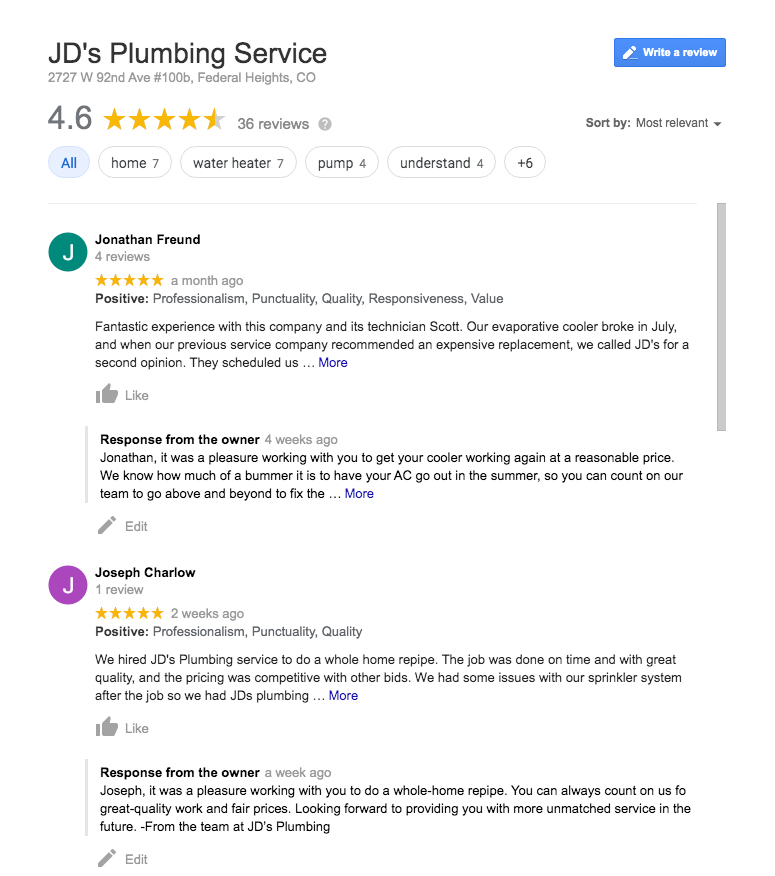 While it isn't difficult to get fake reviews on Google, keep in mind that most legitimate businesses will never go with this dirty tactic. They will never have all 5.0-star reviews. However, anything below a 4.4 rating may need more research.
Did you know that over 50% of customers will not go with any company if it has a less than 4.0 rating? That's true whether you are ordering something online or selecting a plumbing company. Eventually, people trust online reviews.
Select a Certified Denver Plumber
Almost anyone can become a plumber overnight. All you need is the essential knowledge of plumbing equipment and some experience in cleaning a clogged kitchen drain. If that were the case, then certified Denver plumbing companies would not exist. There is a reason that plumbing companies charge as much as $60 per hour or even more for complex tasks.
Plumbing companies invest heavily in certifying their plumbers, which comes at a cost and is reflected in the pricing. But how do you know if a plumbing company is certified in the State of Colorado? You can easily verify any plumbing company by entering their license details on the Verify a Colorado Business or Agency link here.
Our license number is PC 0002935, which can be independently verified from the link above. Click Search after entering the license number.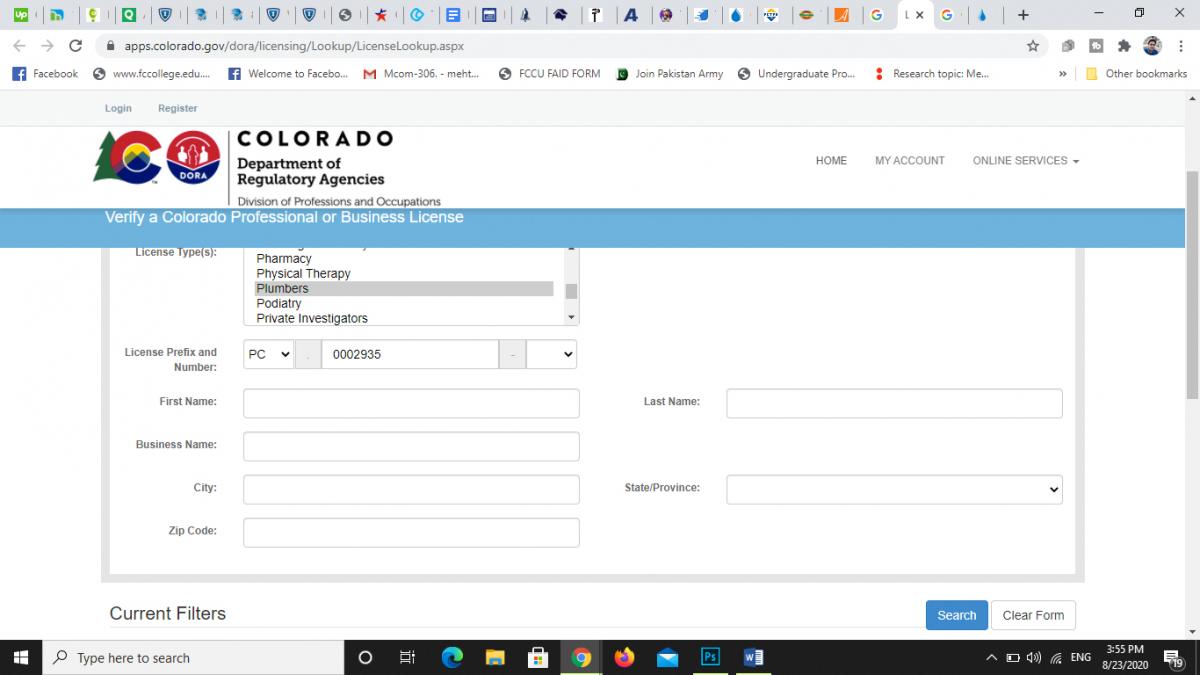 What follows next is the complete transparency about our business. There are no disciplinary actions against us, and our license status is Active. When you ask for the license number and copy from your plumbing company, they shouldn't hesitate to provide these details to you.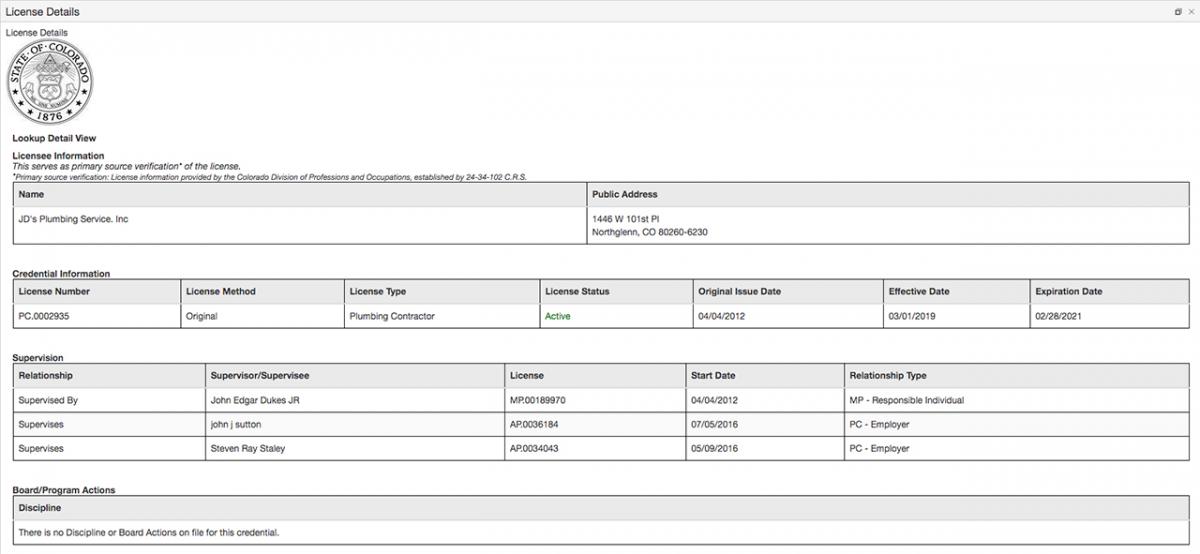 Check For Their Location on Google Maps
Any reliable company in Denver, Aurora, or surrounding areas cannot operate without having a physical location. Check to see how close or far the company's office is from your home/office. Our office is situated at Federal Heights, which is merely at an 11-mile distance from Denver city.
Check For Prices
A reliable Denver Plumbing company that is licensed and insured (just like JDs Plumbing Heating & Air Conditioning) will neither offer plumbing services at extreme high-end prices nor charge pennies. While prices vary from company to company, a reliable agency will strike a balance between prices and quality.
It is not possible to fix a leak at $10 per hour, and anyone claiming to do it at this rate is basically a scam. You'll end up paying more by first hiring a cheap plumbing company and then going for a reliable one to clean up the damages.
While reliable Denver plumbing companies charge on the higher end, they don't expect to pay upwards of $100 per hour. It is just not worth it, as they might be ripping you off. But some commercial plumbing companies may charge even more because of the nature of complex tasks.
Always have the prices checked and verified from multiple agencies before deciding on a company.
Many Denver plumbing consultants, including JD's Plumbing Heating & Air Conditioning, offer free price quotes depending upon the type of work and the number of hours required.
If a company is willing to give you an estimate, albeit not 100% exact, expect to have a margin of around 10% to 15% in plus or minus so that you know upfront the cost of fixtures.
Also, if a plumbing company takes pride in being the cheapest or the most economical one, it certainly isn't a good option to go for. As with any other service, the rule is simple; you get what you pay.
As a good rule of thumb, a reliable company will not ask for payment upfront. Even if they do, it won't be more than 10% of the total project cost, required as a one-time deposit of faith. Professional companies always charge once the project is completed.
Get Everything Written
Have everything, including rates, the approximate number of hours, days and/or weeks, payment terms, etc., in writing. This makes it legally binding for both you and your plumbing company to ensure that everything goes as planned.
This will also mean that no unexpected bumps in payments are seen as the work gets completed.
Check the Company Website
Gone were the days when you'd call a Denver plumbing company from an old list of yellow pages. Nobody does that now. All reliable agencies can now be searched online. Whenever you want to review a plumbing company based out of Denver, Colorado, make sure to check their website and ask yourself the following questions:
Is the website mobile-friendly?
Does the website have enough content to help me?
Does the website have a "contact us" form to be able to ask for a query?
Is the telephone number clearly visible on the landing page of the website?
Do they have a gallery of their team members and vehicles?
To give you an example of what an ideal plumbing website should look like, we have a lead form and a telephone number visible on the home page that is striking out for anyone to ask for a query.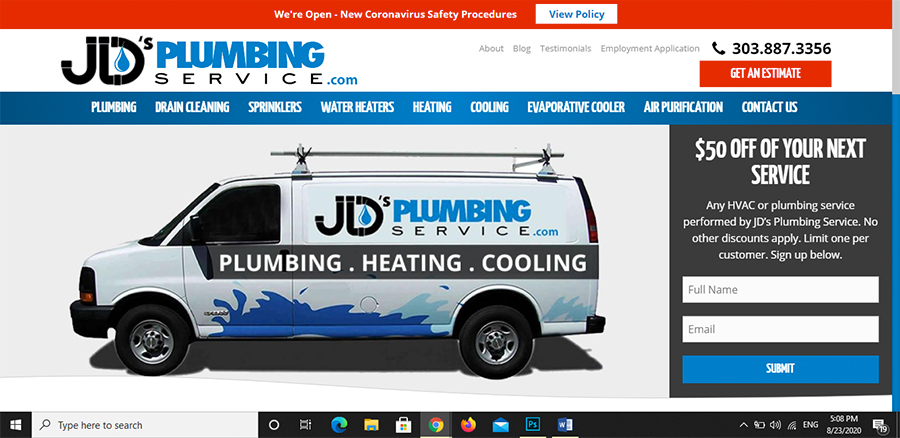 Choose Between Commercial and Residential Plumbing Company
The type of plumbing services you get will most often depend upon the complexity of your needs. If you are a homeowner, you'll want to look for a residential plumbing company in Denver near your area.
If you are a corporation and call a residential Denver plumbing agency, you'll most likely end up getting ripped off. The level of services with professionalism and equipment that commercial agencies provide is much better than their residential counterparts.
Fixing a clogged kitchen drain, or a leaky faucet is far easier and simpler than doing the same for commercial buildings, which require a complex system of piping, drains, and faucets.
The demand for commercial buildings is naturally much more complex and higher than for residential buildings. There may be one, two, or even three toilets in a home. But in a commercial building, there is a complex network of floors, toilets, sinks, pipes, and much more and no one understands this better than a commercial plumbing company like JD's Plumbing Heating & Air Conditioning.
With several commercial buildings in and around Denver and Aurora, it makes sense to verify with the plumbing company the type of services they provide.
At JDs Plumbing, we cater to residential and commercial plumbing needs.
How Quickly Does the Company Get Back to You?
Nothing is more worrying than having a running toilet, a clogged drain, or a leaky faucet, and waiting for several minutes to speak with an agent over the phone.
God forbid, if there is an emergency situation like gas leakages, you certainly don't want to want to have it fixed in broad daylight.
Problems related to plumbing can arise at any time of the day or night, and when you call a plumbing company in Denver, CO, you should expect quick response times.
This also applies to leads submitted online. At JDs Heating & Air Conditioning, we have a record of no more than a 5-minute waiting time over the phone and a 30-minute response time for online leads.
The way how the customer service agents handle your query speaks volumes of credibility about their business. If they are rude and do not pay attention to what you're saying, it is probably a good idea to avoid such plumbing companies.
Not All Have the Same Level of Expertise
Not all plumbing companies in Denver have the same level of expertise. Some like us invest heavily in employee education, training, licensing, and insurance. Others would simply have on-the-job experience based on learn-as-they-go. You definitely don't want a plumbing nerd trying to do a whole lot of testing and experimentation on your home or office plumbing.
Go With the Best!
At JDs Plumbing Heating & Air Conditioning, we take pride in providing quality plumbing services covering a wide range of commercial and residential tasks. Regardless of the type of situation, you can count on us. Our plumbers are licensed, insured, and highly trained. We don't believe in the "learn-on-the-go" situation. We always evolve ourselves with the passage of time and employ social distancing measures during COVID19 to keep Denver running 24 hours of the day, 7 days a week!
Give us a call or submit a query online, and we'll get back to you as soon as possible. If it's an emergency situation, we strongly recommend to contact us, and one of our friendly agents will be available to help you.