Has your furnace started making strange noises? Do you sense a lack of heating performance? Does your furnace sometimes throw in chilly air and water instead of heated? Does it turn on and off by itself? Those are all warning signs that it is time to repair your furnace!
Lucky for you, the Denver Furnace heating experts at JD's Plumbing Heating & Air Conditioning are here to help you. We provide cost-effective solutions to your HVAC requirements with the highest quality of service.
The last thing a homeowner wants is their furnace breaking down in the middle of Denver's chilly nights.
Here's Our Expert Advice:
DO NOT proceed with any repairs yourself if you aren't familiar with any part of this process. There's nothing wrong with DIY furnace repairs, but if you are focusing on saving some bucks by doing everything yourself, you might well end up damaging your furnace unknowingly.
The costs mentioned here are national average, compiled from verifiable sources. You need to conduct your own research with a local HVAC expert to determine the exact furnace repair and replacement costs, as these vary from state to state.
We have tried to be as accurate as possible in providing estimates based on our Denver Heating experience, but we do not claim any responsibility if the figures do not match with your estimates.
Repair Costs by Parts
We have a list of estimated parts costs that were compiled by HomeAdvisor.com as a part of Denver Furnace Repairs research. Please note that they will vary from state to state. While we have made our best attempts to list average Denver Furnace repair costs, they can still change at any time.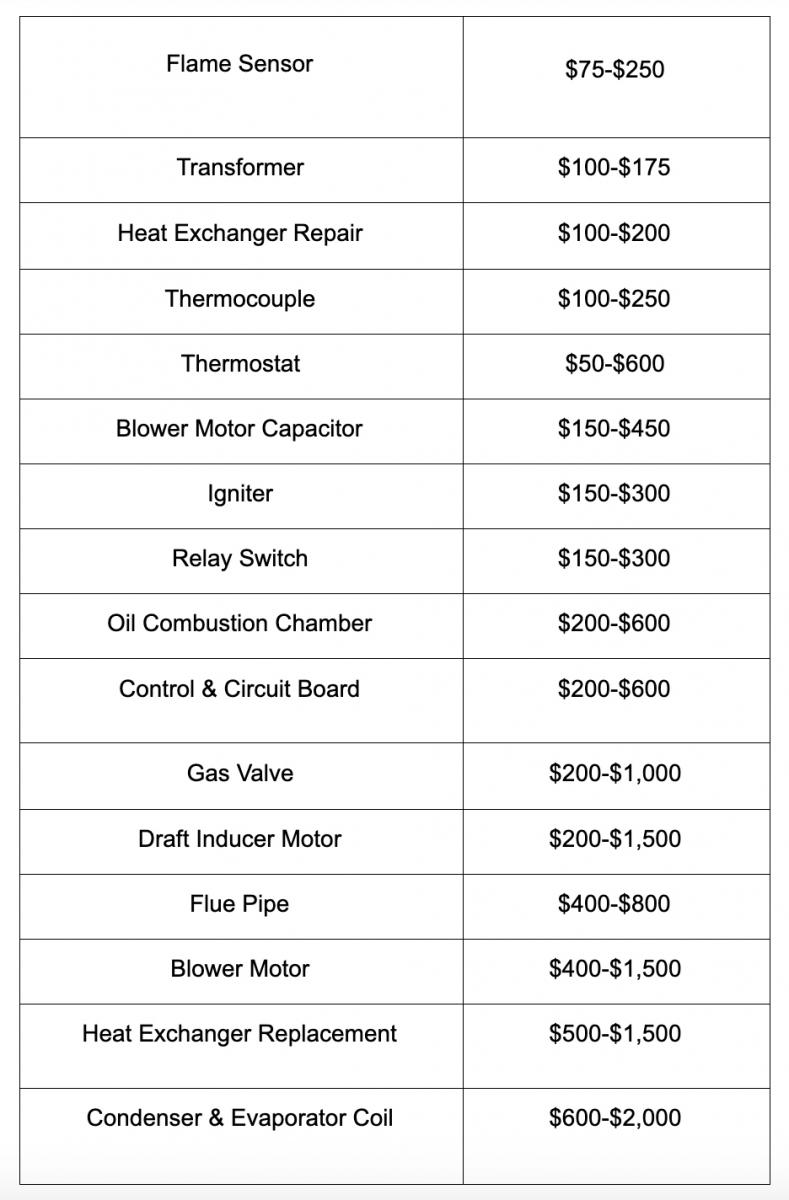 Average Cost of Furnace Repairs in Denver, Colorado
On average, you will find that in Denver, furnace repairs will cost around $295, or between $130 and $469, according to a survey by HomeAdvisor.
While most electric furnaces will take about $300 or less to repair, gas furnace repairs range from $375 to $1,200. In terms of service charges, most HVAC technicians charge an average of $75 per hour.
Replace or Repair?
In Denver, Colorado, the average cost of a new furnace is $2,800 to $6,000 according to FurnaceUSA. The average homeowner is not in a position to get an entirely new system, especially during the busy holiday season.
A few repairs might be enough to solve your heating problems. Be careful – some unscrupulous contractors will trick you into buying a new furnace and getting the installation costs out of your pocket!
Furnace repairs in Denver typically cost from $50 to $2000, depending on exactly what repairs are needed. Simple procedures like oil or filter changes are inexpensive, while more complex repairs like fixing a faulty heat exchanger can be difficult and expensive.
The national Furnace repair average cost is $285.
What to Do?
Our Denver HVAC experts will give you the best guidance about your furnace. Our representative will visit you at your earliest convenience for a proper physical inspection of your heating system.
The cost of your Denver Furnace repair depends on several factors that will determine your spending on fixing a faulty furnace.
1. HVAC Expert Visit Fee
Different HVAC companies charge varied fees as service charges for examining your furnace.
Sometimes if the fault with your system is minor and can be fixed on the spot, the charges for both can be covered in the same fee or the contractor may waive his visitation charges.
At JDs Plumbing Heating & Air Conditioning, our charges vary from $50 to $100 for furnace inspection during which we'll determine if it needs replacement or repairs. Should you proceed with repairs from JD's Plumbing Heating & Air Conditioning, we'll waive our visit charges.
The more expensive the furnace, the higher the cost for its repairs. You can get an idea beforehand about the pricing by contacting the HVAC experts at JD's Plumbing Heating & AC, or the manufacturer of your furnace.
3. Contractor Rate
Another important factor is the contractor's service charges. Some contractors ask for an hourly rate. However, most contractors will charge you by the nature of repair which is needed, no matter how long it takes them to fix it.
2. Furnace Warranties
Always check your furnace warranty status before spending money on your equipment. Expensive furnaces often come with a 10-year warranty, whereas more economically priced ones come with a 5-year warranty.
Some manufacturers may also offer a 1-year warranty for labor costs and furnace inspection. Always contact your manufacturer and see what's covered in your warranty.
3. Furnace Condition
A worn-out, rusted, or very old furnace will be costlier to repair than a 5-year old furnace. Repeat HVAC visit charges and furnace repair costs will eventually put a strain on your budget rather than investing one time for a brand new furnace.
If your furnace is more than 15 to 20 years old and, the better option will be to replace it. We understand it isn't easy for a homeowner to do a Furnace Replacement in Denver, which is why we have created this handy guide for you.
4. Replacement Parts and Availability
An older model of a Denver furnace will require replacement parts which might be difficult to acquire. This will be a significant factor that will affect the cost of fixing your heating equipment. While smaller parts like motor belts and filters are easy to replace, many larger components may not be available in the market.
Think of a car that is 5 years old, and one that's 20 years old. Which one is easier to maintain? Of course, one that is just 5 years old. You can easily find its replacement parts and will cost you less in repairs.
Most Common Furnace Problems Requiring Repairs
We all love being cozy inside with our families during the chilly winter months. Home heating systems are the reason you can do that. And all that coziness turns into discomfort when your Denver furnace breaks down.

Here is a list of the most common issues people face with their home furnaces:
1. Furnace Not Heating Properly:
The most common problem with furnaces in Denver is the eventual inefficiency of its heating performance. Any minor problem with any part of the furnace will lead to low or completely shut-off heating. It may be a broken motor belt, clogged filters, faulty switches, or loose connections.
To try to overcome this problem at home yourself, you can first check the fan settings. If the heat mode isn't turned on, the fan will not blow in hot air. Simply turn it on hot to get things started.
Also, check the thermostat and turn it to 'heat' mode in case it isn't, and make sure it is set to at least 5 to 6 degrees below the room temperature.
If that wasn't the issue, also check the filters for possible blockages because blocked filters will also make you feel like the furnace isn't blowing in heat. If the issue still isn't resolved, check your home circuit breaker to see if there is a blown fuse.
2. Thermostat Keeps Turning Off:
The first thing to do is to check if it is turned on. If it runs on batteries, you can check if they're expired. Put in new batteries to get your thermostat going.
3. Furnace Making Weird Noises:
Furnaces usually make a little noise as they work and a low rumbling sound is normal. However, some homeowners complain of hearing weird scraping or squealing sounds from their furnace unit.
These sounds are most probably coming from the blower area. Check if the ball bearings are grinding against each other due to lack of lubrication or because they have worn out. In this case, you should contact our HVAC experts at JD's Plumbing Heating & Air Conditioning to get a technician to visit for an assessment of the noise.
Squealing sounds might also be emerging from a worn-out or loose motor belt. You can tighten the belt or replace it by getting a new one from your nearest hardware store.

4. Dust Coming From Airflow Pipes:
If your furnace hasn't been treated to cleanup for the entire year, there's a definite chance of dust coming in from vents along with the hot air. Give your pipes some cleaning care by using a vacuum cleaner. Better still, let JDs Plumbing Heating & Air Conditioning help you!
Remember, we're just a call away and will give your furnace the care it deserves.
5. Water Leaking From the Furnace:
The combustion in your furnace generates vapors, drained out with condensation pipes.
These pipes can get clogged with debris over time, leading to leaking water that pools inside the base of your furnace.
Your best course of action here would be to give us a call and let the experts inspect your Denver furnace problems.
6. Pilot Light Keeps Turning Off:
Older models of furnaces have flame-lit pilot lights which consume a tiny amount of fuel and help in the ignition. If your pilot light keeps turning off, it is time to call an HVAC expert because there might be several causes for it.
It could be a defective thermocouple, a congested pilot outlet or you could have a faulty safety switch which a professional will examine. Additionally, the flame might be set too low.
Important: Gas-based furnaces use highly flammable natural gas. If you have to reignite the pilot light yourself, first let air pass through the unit for at least 10 to 15 minutes to let all gas out which might have been built up inside.
7. Electronic Ignition Flame Sensor:
If your electronic ignition is not turning on, you might have to brush or blow away built-up dust and debris from the flame sensor.
If your electronic ignition is not turning on, you might have to brush or blow away built-up dust and debris from the flame sensor.
This sensor shuts down the entire system if it detects incoming gas without a flame. To refresh your sensor, follow these steps:
Flip off the incoming power from the circuit breaker.
Turn off the fuel supply valve.
Remove the flame sensor using a screwdriver. It will look like a thin metal rod located at the base of the burner.
Rub it gently using sandpaper.
Finally, wipe it using a soft cotton cloth to get rid of the debris.
Reinsert it carefully into the assembly point.
8. Problematic Limit Control Switch
The high-temperature limiting switch is found on the blower and it prevents the furnace from overheating.
The telltale sign of a faulty limit switch is that the blower fan does not turn off but continues trying to bring the temperature of the furnace system down.This continuous use of the limit switch wears it out. An HVAC professional would replace it with a new one. The approximate cost of getting it fixed is between $150 and $300.
9. Cracks in the Heat Exchanger
The heat exchanger is one of the most integral parts of a furnace responsible for producing heat through a maze of coils.
Cracks in the heat exchanger let harmful carbon monoxide, nitrous oxide, and sulfur oxide gases leak from this chamber. It is difficult to spot a problem with it, but symptoms include a bad odor, soot buildup, water dripping at the base, and lack of heat.
If you suspect a problem with your heat exchanger, shut down your furnace unit and contact the HVAC Denver professionals at JD's Plumbing Heating & Air Conditioning right away.
We will perform a combustion gas analysis to figure out the extent of the problem with your heat exchanger.
10. Clogged Burners
Gunk collected on the burners doesn't let out an adequate amount of natural gas to get burnt and produce heat.
A clean burner produces a blue-colored flame, while yellow or orange streaks depict accumulated debris. There are plenty of DIY burner-cleaning videos online, but we strongly suggest that you give us a call and let our professionals fix your burner issues safely.
11. Dirty Air and Fuel Filters
This is perhaps the most common problem and it's often misunderstood. Debris-coated filters lead to many other problems which many homeowners mistake for deeper issues.
Luckily, it is the easiest and most essential part of furnace maintenance in Denver. The filter will most probably look like a grate coated up with debris. This restricts airflow. Cleaning a filter is easy and you can learn how to do it by watching a tutorial or calling an expert at JD's Plumbing services.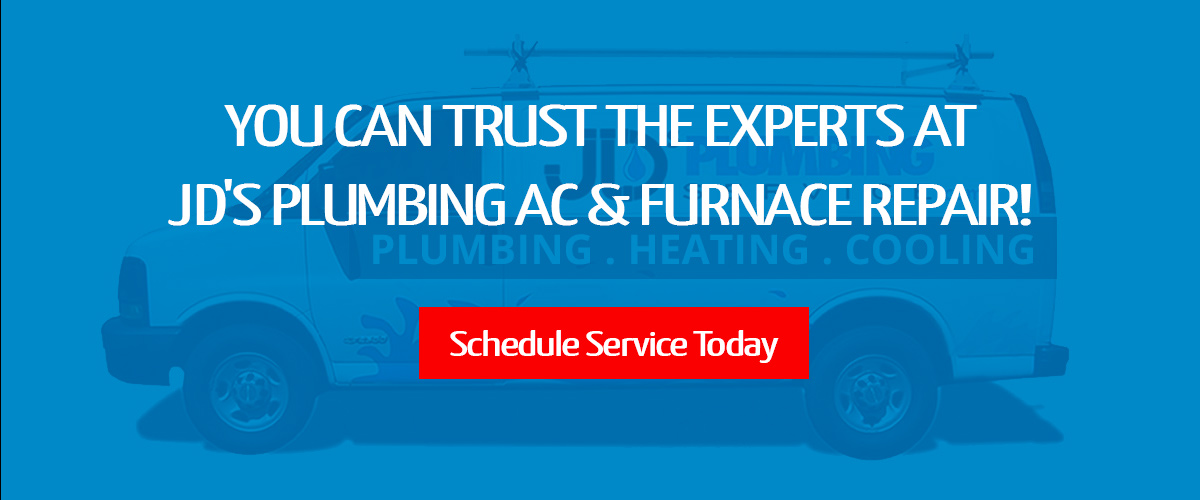 Can Repairs be Avoided?
In a nutshell, no. Regardless of the make, model, and year of installation, your Denver furnace will eventually demand repairs within the passage of time. The nature of these repairs, however, will vary from furnace to furnace, depending on how well it was taken care of in its initial years of installation.
It's obvious that if you go for a complete Denver Furnace inspection at least 2 times a year, your chances of repairs will decrease significantly as opposed to someone who's never had an inspection in years.
Normal repairs like replacing clogged filters, changing the thermostat, analyzing gas pressure, etc. are fine. But when a problem persists, it is always better to invest more in buying a reliable new furnace.
However, if the trouble persists, you might end up spending tons more on buying a whole new unit. Your family's safety also becomes compromised. Getting timely advice from our top HVAC professionals at JD's Plumbing Heating & AC can help save you money. We offer the most cost-effective solutions for you. Learn more by just giving us a call.