An HVAC (Heating, Ventilation, and Air Conditioning) system is an integral part of our homes and one of the most important assets. We all know and understand just how terrible it can get when the furnace suddenly breaks down in the middle of a chilly night. How about the frustration of getting back home after an exhausting day at work, only to find that the AC won't turn on?
We've all been there before and that's why it is super important in 2021 to buy an HVAC system that reliably caters to your heating and cooling needs.
But here's the problem: the average Denver homeowner doesn't have a basic understanding of what an HVAC system is and which brand is more reliable than the other. Many people see the "10-year warranty" label and they buy it. To help you out with the right HVAC System selection process, we have come up with this detailed 2021 HVAC Consumer Buying Guide.
An HVAC system is considered a critical investment decision in your life, one upon which you can rely for your comfort. However, you need to conduct in-depth research before making the purchase as there are several factors that should influence your decision, such as:
Brand
Cooling Capacity
House Size
Average Prices
After-Sales Service
HVAC Furnace Installation Costs
In this HVAC 2021 Buying Guide, we will study all important factors that will determine your buying decision.
Search for the Right Type of HVAC Contractor
Investing in the right HVAC system is just one part of the equation. It is not going to be possible for you to install it going the DIY route. You need a reliable HVAC contractor who will help you with replacing and installing your new furnace or HVAC system.
To do this, ask your peers for recommendations and contact at least 3 to 5 HVAC contractors. Get a quotation on HVAC installation costs from each of them. Then do a quick Google search and read their past reviews. A reliable contractor would have reviews on Google and Facebook with an average rating of 4.5.
We have a 4.7 rating with 41 reviews on Google, which means you can easily rely on us when it comes to searching for the right HVAC contractor in Denver.

Manual J and Manual D
Manual J and Manual D seem like fancy terms, but they aren't. Professional contractors rely on Manual J to calculate the residential load and determine the required size of the HVAC system. Similarly, Manual D is used to calculate the amount of ductwork in your Denver residential property for HVAC installation. Many contractors will often skip this step. If they push you to buy an HVAC system without Manual J and Manual D calculations, you need to be careful.
A correctly sized HVAC system with the right ductwork and piping will do wonders in catering to your Denver heating and Denver cooling needs.
The heating and cooling capacity has to be calculated based on the individual room size of your home. Manual J and Manual D will save you from guesswork and provide you with an accurate estimate with which to buy your HVAC system.
Buying a large system for a small home will be costly in energy bills and repairs. Similarly, an HVAC system that isn't properly sized for your large home will never fulfill your heating and cooling needs. That's why it is critical to perform Manual D and Manual J calculations.
Different HVAC Systems and their Costs
Right now, there are over 300 brands of HVAC systems. Once you start searching for an air conditioner or a furnace, you will be bombarded with a multitude of options. This is where a professional HVAC contractor comes in. Professional contractors know which brands are reliable as they have experience in installing and replacing HVAC systems for their customers. At JDs Plumbing Heating & Air Conditioning, we have over 20 years of experience in installing various HVAC systems, heat pumps, furnaces, and air conditioners.
Here is a list containing some of the most popular HVAC systems and their combination types to cater to your heating and cooling needs. Regardless of whether you're doing a new installation or just a replacement, it is important that you know the various components of an HVAC system. There are 3 types:
Heating and Cooling Split Systems
Ductless AC Systems
Centralized Heating & Air Conditioner Combinations
Based on our knowledge and expertise, here are some of the leading brands and their relative costs in 2021: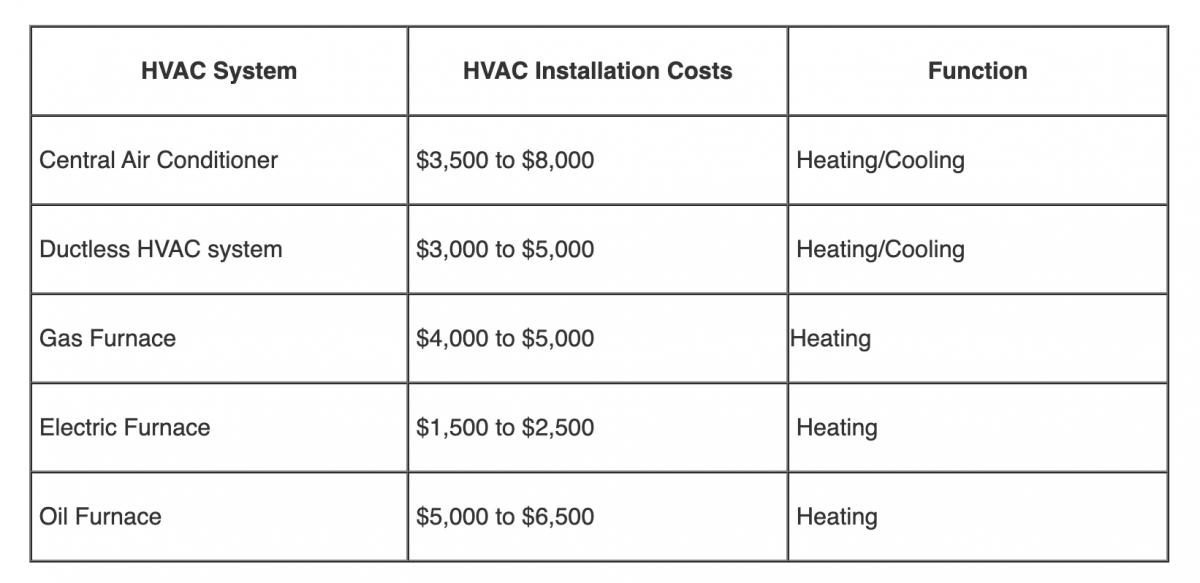 Let's explore the various types of systems.
Heating and Cooling Split Systems
The most common type of HVAC unit is the heating and cooling split system, having 2 units, one for heating and the other for cooling your Denver home. This is also a great combination for homeowners who are unwilling to burn their money on expensive electrical equipment.
The indoor unit is a furnace that works during winters to heat your home. The outdoor unit is an air conditioner that sits on an AC Pad outside your home and works during summers. Both are controlled by a programmable thermostat that maintains a consistent temperature throughout your home.
Installing a split heating and cooling system requires a complex network of ducts, vents, and pipes throughout your home that maintain a specific airflow to each of your rooms.
Consider this system if:
You do not want to manage each room separately
You want a complete heating/cooling solution
You already have adequate ductwork, vents and pipes installed.
Ductless HVAC System
While a heating and cooling split system are quite popular, another viable option for homeowners is a ductless HVAC system. It is a split system with two units that work similarly to HVAC split systems. These are great if you want to have a separate unit for each of your rooms. They are mounted on walls and are operated using a remote control. While costlier than typical HVAC systems, they are easier to install. Consider this system if:
You are not interested in installing a complex network of ducts and vents throughout your entire home.
You want your home to be energy efficient so that the system is only turned on when the room is occupied.
You want to control each room at different temperatures.
Centralized Heating and Cooling System
The packaged centralized heating and cooling system is an all-in-one HVAC system ideal for big homes. It is usually installed in your home's attic and caters to all of your heating and cooling needs. There are no outdoor units because the all-in-one system is highly energy efficient. Consider this system if:
You do not want an outdoor unit.
You only want one system that runs on electricity.
You reside in areas with a warmer climate
What Questions do you Need to Ask your HVAC Contractor?
Not all HVAC brands are the same in terms of quality and after-sales service. The same goes for HVAC contractors. A quick Google search will reveal hundreds of potential HVAC contractors nearby. A great contractor has experience in replacing, installing, and repairing several HVAC systems. Here are some of the most important questions you need to ask your HVAC contractor before replacing or installing your new HVAC system:
Do you have a list of the necessary building permits?
Have you completed the Manual J and Manual D calculations to determine ductwork and HVAC size respectively?
Have you verified whether the existing ductwork is adequate for the new HVAC system installation?
Will you provide your services in a written contract?
How long would it take to install a new system?
Based on the load calculation and ductwork, which HVAC system is right for me?
Do you charge for every visit?
Efficiency Ratings of the HVAC System
If not controlled, your energy costs can easily shoot up, with the HVAC system representing as much as 50% of the bill. It is, therefore, important to choose an energy-efficient system when making your decision.
The US Department of Energy governs efficiency standards for all furnaces and split systems manufactured in the US.
For furnaces, you need to buy an HVAC system with an AFUE (Annual Fuel Utilization Efficiency) ratio of at least 90%, which means that only 10% of the energy is wasted whilst converting energy into heat.
For air conditioners, you need to confirm the SEERs ratio (Seasonal Energy Efficiency Ratio) to be ideally 14 or above. An AC with a 16 SEER rating will consume 13% less energy to produce the same cooling as an AC with a 14 SEER rating.
It's important to invest more money upfront rather than save some money now and spend more on costly repairs in the future.
Let's say you've just purchased an AC or a furnace and saved roughly $3,000 compared to an expensive model. Isn't this a great deal?
Perhaps not!
What if your new AC or furnace now needs constant repairs, skyrockets your energy bills, and dies earlier than a more expensive model? You are in for a big, unpleasant surprise!
It is for this reason that you need to invest more upfront on an energy-efficient unit rather than buy a cheaper unit and pay high energy bills.
Indoor Air Quality

HVAC Systems are designed to filter and clean the air inside your home from dust and dirt particles, thereby relieving you of asthma and allergies. While inside your home, you should be able to breathe clean, fresh air and the only way to do that is by investing in a reliable HVAC system.
A reliable HVAC system will provide clean air at a comfortable temperature and humidity level. There are several air quality issues that you need to take into account while buying an HVAC system:
Dust and dirt particles
Pet hair
Residue from carpets
Allergens
Mold, bacteria, and germs
Household chemicals
While buying, look for reviews of leading HVAC brands and visit their websites. Focus on how specifically they address the air quality issue and how their ACs or furnaces can help you with cleaning the indoor air.
Manufacturer Warranties and Coverage
An HVAC system, a furnace, or an AC should all come with warranties highlighting the coverage customers would get in case of a fault. Many leading brands offer as much as a 10-year warranty for parts and a 5-year warranty for the compressor.
Whenever you buy a new HVAC system, you receive a warranty that covers certain replacements and repairs of various parts. What you need to know is that you can inadvertently void this warranty if you don't take into account the following:
Not registering the product within due time
Using non-branded replacement parts
Improper HVAC installation conducted by a nonprofessional contractor or via the DIY route
Failure to document every inspection and maintenance
Good HVAC brands are generous in offering replacements of certain parts for free, but if you haven't had your unit inspected in years, don't blame them for your fault. Lack of inspection is a common reason why most of the components fail in the first place and also the same reason you'll void your warranty.
Professional HVAC Installation
At JDs Heating & Air Conditioning, we have NATE-certified technicians ready to help you with replacing or installing a new furnace. We will perform all Manual J and D calculations respectively and suggest to you the most appropriate brand based on your house size, ductwork, and budget. We will also offer our best annual HVAC inspections so that you never lose the benefits that come with your warranty.