Summer is almost here, and if your central air conditioner has been giving you problems beyond air conditioner repair or replacement, you're probably looking to buy a new air conditioner for this season. You must be researching online or asking around to know how much it really costs to install a central air conditioner. This is the most significant determining factor in your quest for a central air conditioner.
There are two types of costs associated with the installation of the Air Conditioner, the unit, and the installation costs.
Home Advisor estimates that the cost of a new central air conditioner, and the installation, ranges from $3000 to $7000 on average. Let's now take a look at both.
As you're researching, you may have come across the idea of a SEER rating. If you're still not sure what that means. We have your ultimate guide to understanding What Is a SEER Rating? What it means for your air conditioning needs.
Denver AC Unit Costs
It is always a smart move to research HVAC costs in Denver before buying the unit. The central air conditioning units are more expensive than ductless split air conditioning systems. The cost can also vary based on type, location, brand, and retailer.

If your home is quite large, expect an additional amount of ductwork and man-hours required for installation, skyrocketing your costs to as much as $10,000.
National average range of AC installation cost is from $1,700 (low end) to $11,000 (high end). The average is generated by statistics provided by thousands of homeowners.

Cost of Air Conditioning Installation in Denver
In Denver, Colorado, the average cost of Central Air Conditioner installation is $4,639, according to HomeAdvisor, while the typical range is $3,112 to $6,185 for nominal models and average-sized homes. A broader range of installation costs can be between $1,400 (low end) to $9,200 (high end).
Prices of Various Central Air Conditioner Brands:
Amana: $2,600
American Standard: $3,200
Aire-Flo: $1,700
Armstrong: $2,000
Bryant: $2,200
Carrier: $3,200
Coleman: $1,700
Comfortmaker: $1,700
Frigidaire: $2,900
Gibson: $2,300
Goodman: $2,100
Heil: $2,600
Lennox: $3,400
Payne: $1,400
Rheem: $2,500
Ruud: $2,400
Tempstar: $1,800
Trane: $3,300
Whirlpool: $1,900
York: $2,800

Air Conditioning Costs Based on Type of System
Let us compare different prices based on the kind of system so that you can compare the prices.
Central Air Conditioner: $3,812 to $7,475
It has a high cost because it comprises extensive ductwork and usually has heating features for the entire house.
Factors Affecting the Price of Central Air Conditioner Installation
The total costs quoted above are one side of the story. When you get into the process of buying and installing a new central air conditioning unit for your house, actual costs can quite add up. These can include pre-installation evaluation, ductwork installation or repairs, and the service charges of a certified HVAC professional who will ensure a perfect installation.
Evaluation: The significance of this step simply cannot be overlooked. It is the first step in ensuring that your home gets a perfect installation and optimal performance. The certified professional will conduct an in-depth examination and identify potential problems.
Ductwork: The HVAC contractor inspects the ductwork at your house and determines whether repairs or modifications are required. The more complex the ductwork at your home is, the higher your installation cost will be. Heat rises and makes your second floor difficult to keep cool. Many HVAC systems do not have ductwork that reaches the second floor of your home. If improvements need to be made to your house for accommodating new ductwork, the price can go further up.
The Kind of Air Conditioner: As mentioned earlier, the various types of systems have varying prices like central air conditioners, ductless mini-split systems, packaged central air conditioners, window air conditioners, portable air conditioners, and heat pumps.
Installation and Service Charges: If the HVAC contractor is from a certified company, they will charge according to the company's pricing. Additionally, factors like residential areas, time of the year, kind of system, and possible repairs can also make the service charges go up.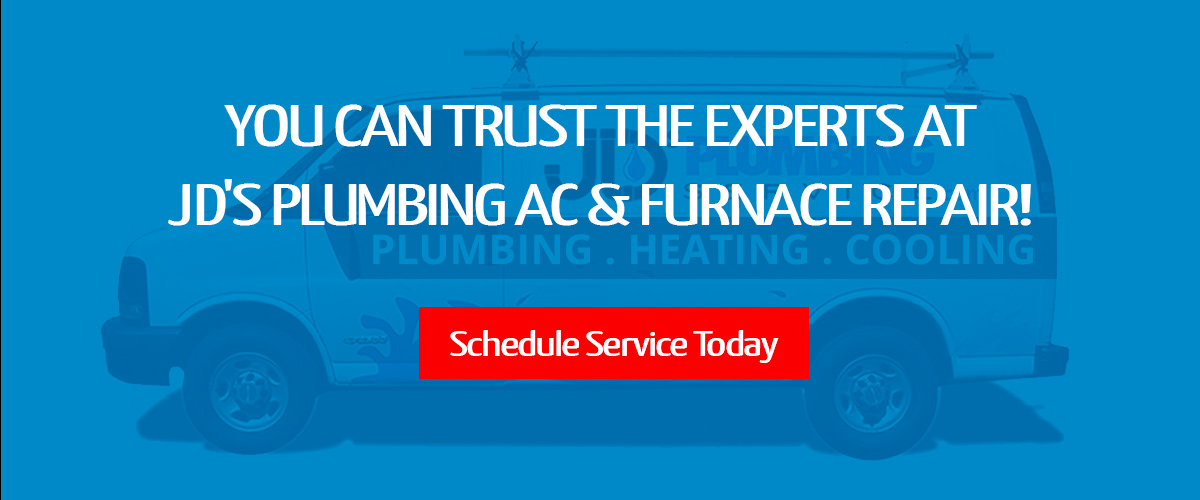 Central Air Conditioner Replacement Costs
Generally, the national average cost of replacing your home's central air conditioner is from $5,000 to $12,500 (high end). This is different based on states, residential areas, manufacturers, and sizes of homes.
This price is relatively higher than the national average cost of a new unit because it includes the service charges for the removal of your previously installed system. Additionally, the complexity of ductwork in your home is another factor that affects the price of replacement.
Let JD's Plumbing Heating and Air Conditioning take care of your air conditioning replacement needs. We will suggest the most viable brand and model based on your house size, budget, and cooling requirements. Our installation charges are also quite nominal, and you never pay more for work conducted in peak season.