When investing in a new furnace, you'll find several makes and models in varying price ranges. How much you end up spending depends on many different factors, including your house size, the fuel (gas, electricity, oil), your usage, and the furnace's AEFU efficiency.
The national average of furnace replacement or installation is anywhere between $1,500 to $6,000. However, expect to pay around $3,700 for a new furnace.
Here's everything we will cover in this guide:
Furnace Types
There are three types of furnace, and their average replacement cost is listed in the following table: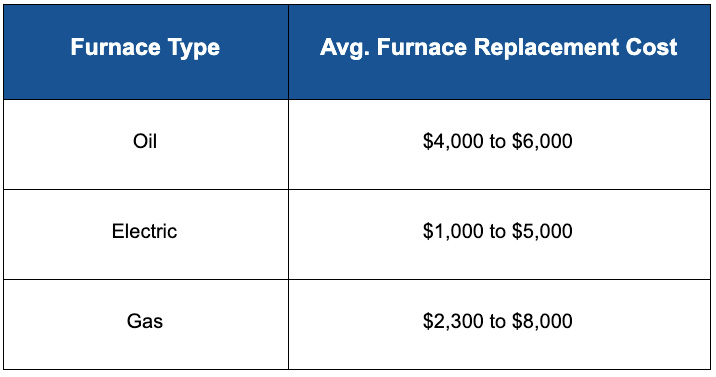 If you reside in an area where utilities like gas and electricity are not a problem, like Denver, CO, we would recommend going with a gas furnace. Not only do they have an AFUE efficiency ratio of as high as 97%, but they are also easier to clean and operate.
Oil-based furnaces with an expansion tank get dirtier with time and are messy to clean. While oil furnaces have been widely used for a long time, they are not so popular anymore.
Upfront Furnace Replacement Cost vs. Operational Cost
Investing in a reliable furnace just by looking at its price tag is just one part of the equation. What you need to look at is how well the furnace will perform for the rest of its life, including annual inspection and replacement costs.
Oil furnaces, while once widely used, are not an ideal option anymore.
Electric furnaces are more economical than gas furnaces and may typically cost you around $1,000 to $1,500 less. However, electric furnaces have very high lifetime operational costs.
On the other hand, gas furnaces are expensive initially, but they have a low operating cost and a significant, near to 100% (97%) AFUE efficiency ratio. This means they are usually the most cost-efficient option to choose from.
Most Common Gas Furnace Brands
There are several reliable gas furnace brands easily available throughout Denver, Co, with a nationwide network of shops and warranty centers. It is important to first consult a local Denver HVAC expert like JD's Plumbing Heating & Air Conditioning to find out the most commonly available gas furnace brands in your area.
In Denver, Co, several leading American gas furnace brands are available. See the table below for their average cost.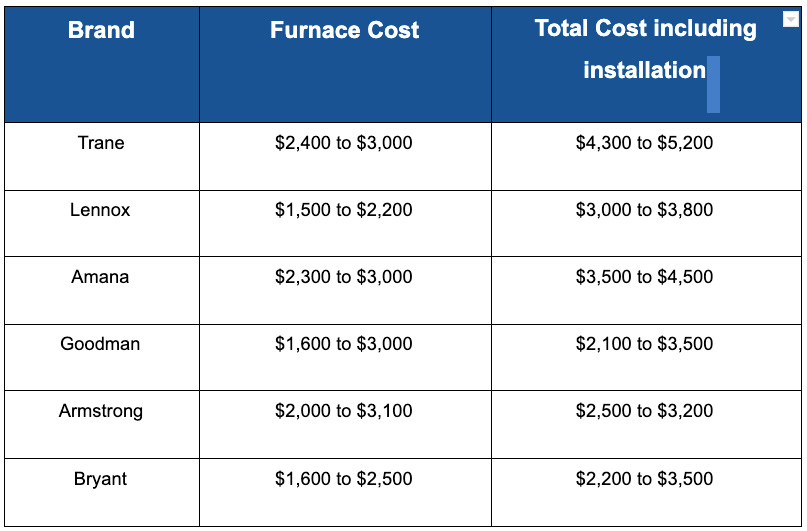 Furnace Replacement Cost – What Size Gas Furnace Do I Need?
House size is a huge factor in deciding the cost of furnace installation in Denver. If you have a small house under 1,500 square feet, your average furnace replacement cost should not exceed $3,500.
Larger homes need furnaces with a higher BTU power. Costs can quickly escalate if you factor in your home size. For example, a home that is 3,000 sq. feet in size will have a higher replacement cost.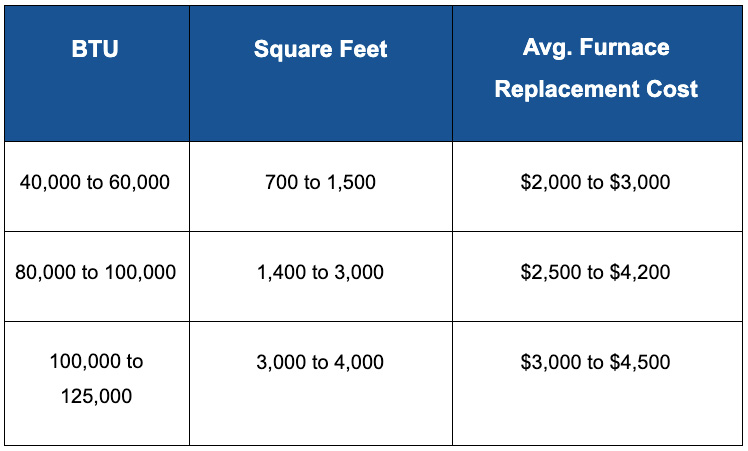 Before Moving Forward, Here's a Word of Caution:
DO NOT proceed with any replacement or installation yourself if you aren't familiar with any part of this process. There's nothing wrong with DIY furnace maintenance and replacement, but if you are focusing on saving some cash by doing everything yourself without having the necessary skills, you might end up unknowingly damaging your furnace.
JD's Plumbing Heating & Air Conditioning has researched furnace replacement and installation costs for 2021 from several verifiable sources, but the actual costs will, of course vary because of factors such as brand, model, AFUE efficiency ratio, home size, and your local HVAC expert.
Always get in touch with a local Denver Furnace Replacement HVAC expert and get a quote before making a decision.
As always, JD's Plumbing Heating & AC is just a call away. Schedule an appointment now to replace your furnace in Denver.
Average Cost of Furnace Replacement or Installation in Denver, Colorado
On average, furnace replacement and installation will cost around $4,000, in addition to labor costs ranging from $150 to $400.
There are 3 components to furnace replacement or installation costs:
New Furnace – This will account for roughly 60% to 80% of your installation cost.
Labor costs – Unless you're going the DIY route, labor costs could account for almost 20% of your furnace installation. Expect to pay less in labor costs only when you are installing a new furnace instead of replacing it.
Additional Costs – These could account for anywhere between 10% to 20% of your total costs and include services such as old furnace removal, safety inspection, and extra equipment.

Why Do I Need to Replace the Furnace and Install a New One?
If your furnace is 15 years or older and has started resulting in consistent repairs, it's time to replace it. You know the saying:
When in doubt, cut it out.
But it goes way beyond just a doubt. Here are some telltale signs of when you need to replace your furnace:
Squeaky or weird noises
Increasing energy bills
Repeat repairs
Occasional breakdowns
Furnace Replacement vs. Furnace Repair in Denver
Over the last few years, climate change has accounted for swift changes in our environment, which means that Denver has seen unprecedented levels of harsh cold nights and exceptionally hot days. In times like these, it's important to keep your furnace working in peak condition.
You might ask yourself, "Should I replace my furnace or repair it?"
There is no direct answer to it, but there's a good rule of thumb to determine what you should do.
If your furnace breaks down and repair costs are estimated between $1,500 to $2,000, it's better to buy a new gas furnace for around $4,000. Either way, you would have had to spend around $2,000 on repairs, so why not invest an additional $2,000 and buy a brand-new furnace?
What Are the Additional Costs for Denver Furnace Replacement?
One of the additional costs for furnace replacement and installation in Denver is the HVAC Expert Visit Fee. HVAC Denver Companies charge service fees for visiting, inspecting, and recommending a new furnace for replacement. The national average is between $50 to $150.
At JD's Plumbing Heating & Air Conditioning, our charges vary from $50 to $100 for furnace inspection, during which we'll determine if it needs replacement or repairs. Should you proceed with replacement from us, we'll waive our visit charges and only bill you for the actual labor costs of installing a new furnace.
It's always a great idea to consult several reliable HVAC experts in your area. Not only will you get a good assessment of rates, but certified HVAC Denver experts like JDs Plumbing Heating & Air Conditioning will also help you to find the right furnace model based on your needs and budget.
[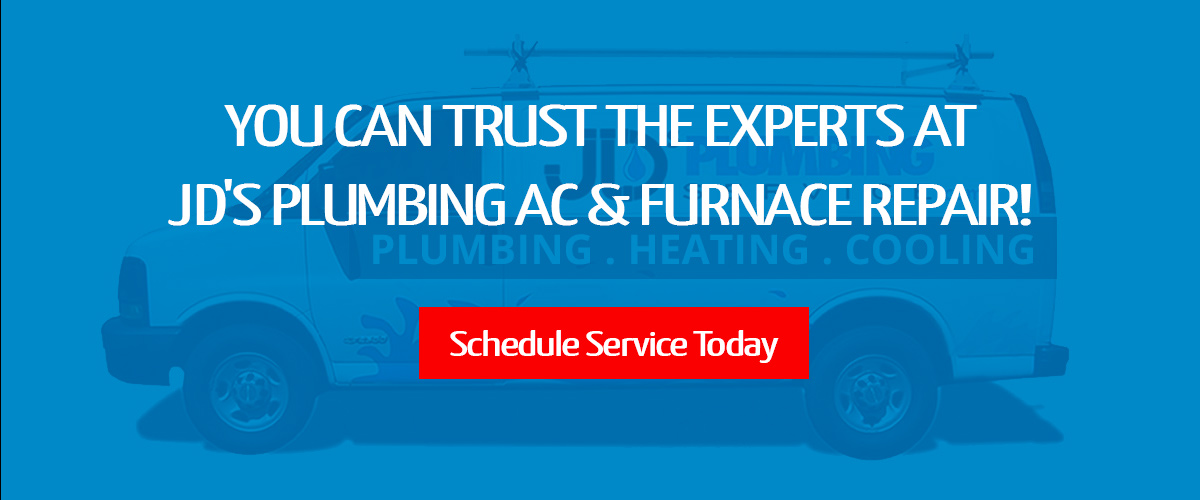 1. The Make and Model
The more expensive the gas furnace, the lower its running costs. You can get an idea beforehand about the pricing by contacting the HVAC experts at JD's Plumbing Heating & AC. Every brand, even those with the same specifications, has different charges.
2. Gas Furnace Performance and AFUE Ratings
Regardless of the furnace make or model, a new furnace is going to be much quieter and more efficient than your old one due to new energy regulations and improved technology.
Here are some factors you need to take into account when buying a new furnace:
Single-stage and two-stage unit – While slightly more expensive than the single-stage furnace, a double-stage furnace allows for higher fuel efficiency, maintaining 65% while starting and reaching 95% once fully turned on.
Blower motor – Highly energy-efficient motor with improved fan speeds for proper air circulation
Standard motor – Least energy-efficient motor option
Variable speed – Unlike fixed speed, the furnace automatically adjusts fan speed and gas consumption based on the temperature, thereby lowering your energy bills significantly.
Modulating valve – Many expensive gas furnaces have a modulating valve that regulates the incoming gas, thereby lowering your energy bills over time.
3. Furnace Warranties
Before buying a new furnace, always ask the manufacturer the following questions:
What's covered under warranty?
Are the first year's annual furnace inspection and tune-up covered?
What is the warranty claim procedure?
How long does it take the manufacturer to rectify a problem and have the furnace repaired?

4. Ductwork Installation Cost
The average cost of furnace replacement does NOT include the installation of ductwork. While replacing your furnace, let your HVAC expert diagnose and inspect any problems with your existing ductwork, without which your furnace cannot function.
Ductwork is a series of duct pipes and vents required for your furnace to properly channel warm air into your home and remove exhaust fumes and gases.
The average cost of ductwork installation is anywhere in the range of $1,500 to $3,000. Improperly installed ducts and vents could be one reason your furnace isn't working. Even if you buy a new one, you need to make sure that the ducts and vent pipes are professionally installed.
Most Common Furnace Repair Problems Requiring Replacement
It isn't unusual for furnaces to break down, just like with any other electrical equipment, and eventually, you'll need a reliable HVAC contractor for repairs. In Denver, temperatures often fall below zero, and that's when your gas furnace needs to be working at the most optimal output.
Here are some common furnace repair problems, which left unchecked, may result in a complete malfunctioning of your equipment, leading to replacement:
Not changing clogged filters. You need to clean clogged filters every 3 months. Since clogged filters force the furnace to distribute warm air, it can easily damage motors and other electrical components resulting in costly repairs. Ideally speaking, you need to change air filters routinely once every year.
Not performing annual furnace inspection and safety. JD's Plumbing Heating & Air Conditioning takes special care whilst performing furnace inspection and safety to ensure your furnace keeps working smoothly throughout the winters. Periodic maintenance and inspection are critical to ensure the longevity of your heating equipment, without which it can break down at any moment.
A malfunctioning thermostat. Unfortunately, many Denver homeowners fail to realize that an investment in a programmable thermostat would go a long way in the proper functioning of their heating equipment. If the thermostat malfunctions, your furnace will keep turning on and off several times throughout the day, leading to costly repairs or even replacement.
A faulty fan limit switch. Your blower fan will continue running uninterruptedly if your fan limit switch is not functioning. Again, this will lead to costly repairs.
If you think there's a problem, call JD's Plumbing Heating & Air Conditioning to take care of your heating needs. Delays in contacting a Denver HVAC expert may result in a complete replacement of your furnace is necessary.
How Do I Boost the Energy Efficiency of My New Furnace in Denver?
You might have bought a top-rated furnace for your home, but even that won't work well if it isn't maintained properly. Here are some tips to boost your new furnace's efficiency:
Clean or replace air filters every 3 months.
Check for any cracks or holes in vents and pipes. If there are any, go for repairs.
Keep vents clear of any obstacles, including furniture.
Check motor belts and bearings and keep them well lubricated.
A programmable thermostat goes a long way to saving on your energy bills.
Insulate your home and ensure there are no drafts from doors and windows.
Your home represents a major chunk of your investment, something you've acquired over time through hard work.
Investing in a reliable furnace brings the much-needed comfort and peace of mind you want for yourself and your family. It is critical to call in a licensed, certified, and experienced HVAC expert team to ensure proper maintenance of your furnace throughout the year.